Server Virtualization and Its Benefits at a Glance
By CIO Applications Europe|
Monday, January 14, 2019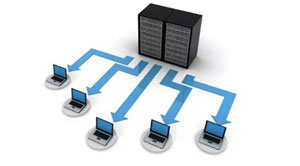 Server virtualization is a concept in Information Technology (IT) for achieving higher efficiency in processing and storing data and application. With the help of processor or standalone software, the existing hardware and operating system are masked on the physical server; it appears as a series of virtual servers. Virtualization allows different operating systems and apps to run in tandem, on the same device.
Server virtualization offers the following benefits:
Optimizing IT Resources
Hardware is highly underutilized as they are functional for the single operating system. With virtualization, resources are optimized, and the configured hardware is able to use its computational power to maximum. Server virtualization results in the reduction of IT expenditure yearly up to 40 percent.
Faster Server Positioning and Deployment
Companies waste a lot of time and efforts in deploying a new physical server. Server virtualization allows the same job to be completed in much lesser time and once a virtual machine is installed, within minutes a new operating system can be installed. The methodology also permits optimal use of floor space unlike a new physical server needs a new rack and cables. Data centers are now moving towards the same as it proves handy to them.
Improved Disaster Recovery
Virtual server now has recovery software that automatically creates a data backup and uploads information to the cloud in case of any disaster. Transferring data from one virtual server to another is also convenient and secure. The software also allows testing disaster recovery plan and its modification according to the results.
Energy Optimization
Deploying virtual servers facilitates energy optimization as multiple servers run on a single machine and this saves the energy. Energy consumption drops drastically, keeping data centers cool and cost-effective. Also, cloud vendors can reduce their service cost, giving them an edge in the competition.
The lesser number of physical servers will require less maintenance and monitoring.